Edmond Franchise Election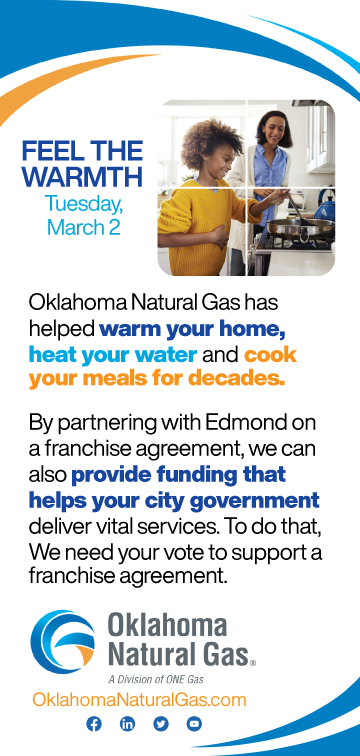 For questions, please email us at CustomerRelations@onegas.com. Please provide your name and a phone number if you would like us to call you back.
The upcoming March 2 franchise election is an opportunity for Edmond residents to approve a franchise agreement between the City of Edmond and Oklahoma Natural Gas.
"This franchise will outline how Oklahoma Natural Gas and the City of Edmond work together," says Martie Oyler, Oklahoma Natural Gas Community Relations Manager. "Residents will continue to benefit from safe, affordable and reliable natural gas service as they have for so many decades."
What is a Franchise Agreement?
A franchise agreement lays out detailed rights and responsibilities between the City and Oklahoma Natural Gas for the next 25 years. The franchise allows Oklahoma Natural Gas to work within the city's public ways to place, maintain and operate a natural gas system.
How Does Edmond Benefit?
Approval of this franchise would replace the gross receipts ordinance in place today. The revenue collected by Oklahoma Natural Gas on behalf of the City helps the City with future growth and improvements.
How Will It Impact Customers?
If approved, Oklahoma Natural Gas customers will see a 3% franchise fee as the line item description on their bill. This will replace the 2% gross receipts ordinance fee that is currently collected. These fees are collected on behalf of, and paid to, the City of Edmond.
---
Voter Information
Early voting
Oklahoma County Election Board office
February 25 and 26
8 a.m. to 6 p.m.

Election Day
Tuesday, March 2
Polls are open 7 a.m. to 7 p.m.
Lines are possible at peak voting times. Wait times will likely be shortest at mid-morning and mid-afternoon. Anyone in line to vote at 7 p.m. will be allowed to cast a ballot.

Online Voter Tool
Polling locations, voter registration verification and sample ballots can be accessed on the Oklahoma State Election Board's website at www.elections.ok.gov. Sample ballots are also available at the Oklahoma County Election Board office. Those who vote by mail can also check ballot status using the Online Voter Tool.
---