Helping Companies Go Above and Beyond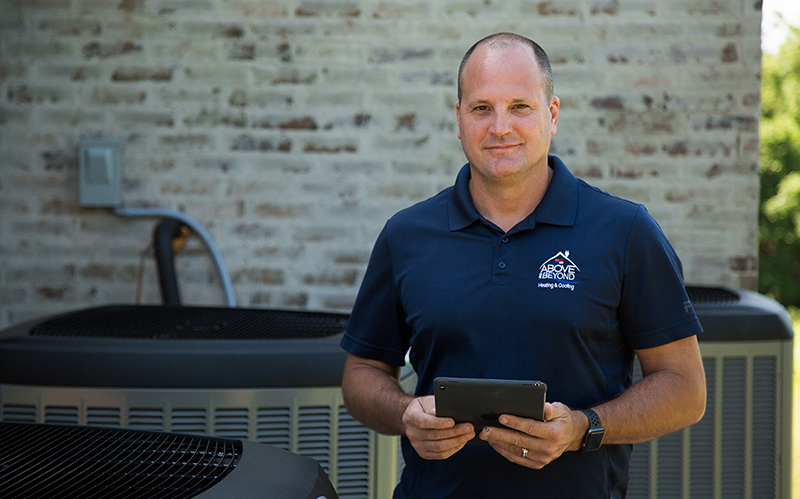 When Above and Beyond Heating and Air President Jason Brady began his business in the Oklahoma City area, he knew exactly what he didn't want: a company whose chief goal was making money off customers by cutting corners.
Like the company's namesake, Above and Beyond truly goes out of its way to put customers' interests first. For Brady, the most important goal for the business is helping customers make the best decisions for themselves and their families, especially when it comes to major purchase decisions like replacing heating and cooling equipment.
That's where Oklahoma Natural Gas' Energy Efficiency Contractor Program comes in. With rebates on efficient natural gas appliances and tips to save energy and money long-term, Brady can help customers understand and explore a wide range of options.
"Let's say we're called out to someone's home and find out they need a heating system replacement. More than likely, they have an 80% efficiency heating system, which is standard.
I explain to customers an 80% efficiency furnace is like getting 80 cents back for every dollar they spend on heating costs. With a 95% efficiency furnace, it's like getting 95 cents back for every dollar spent."
With Oklahoma Natural Gas' program, Brady lets customers know they can also receive a $550 rebate when they purchase a natural gas furnace or boiler with more than 95% efficiency.
Unsurprisingly, customers appreciate Brady's extensive knowledge and willingness to help them save.
"The rebate covers our installation cost and puts additional money back in the customer's pocket. Plus, they get a more efficient heater that helps them save in the long run. I've never had someone say they would stick with the less efficient unit."
As far as Brady is concerned, the Energy Efficiency Program is a win-win for his customers and his business.
"It helps our customers get better equipment and get better informed, and having that knowledge gives us a competitive advantage. Without it, we would be just like every other contractor."
Back to Contractor Newsletter index.