At Oklahoma Natural Gas, we have a vision of a better tomorrow – a future where we continue to deliver safe, affordable and reliable energy while reducing the environmental impact on our planet.

Our 2022 Environmental, Social and Governance (ESG) Report outlines our progress toward this vision by highlighting our commitment to safe operations, responsible environmental stewardship, and support of our employees and the communities we serve. The report focuses on our efforts in the following areas:

Environmental Stewardship — Sustainability is at the core of our vision, and we embrace the opportunity to be part of a transition to a carbon-neutral energy future.

Social Responsibility — We are committed to making a difference for our employees, customers and communities.

Corporate Governance & Oversight — Strong, forward-thinking leadership is necessary to create a better tomorrow for our people and our planet.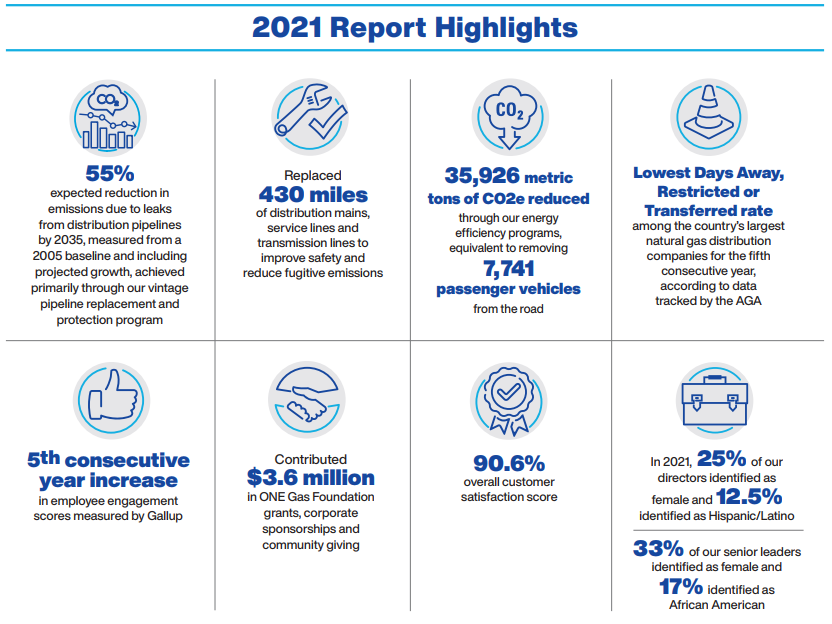 What We're Doing in Oklahoma:
Opened state-of-the-art training center in Tulsa to provide hands-on training to our field service employees; more than 6,500 training hours logged in 2021
Began using Risk Assessment and Damage Reduction technology (RADAR) in our major metro areas to proactively identify potential damages to our pipelines
Recognized by Tulsa's Community Service Council and the Oklahoma Veteran Alliance as a Veteran Employer Champion
Recognized for inclusion and diversity efforts by the Tulsa chapter of The Links, an international service organization whose members include than 16,000 professional women of African descent

QUESTIONS?
For questions or more details about the programs highlighted, contact
sustainability@onegas.com
.