At Oklahoma Natural Gas, we have a vision of a better tomorrow – a future where we continue to deliver safe, affordable and reliable energy while reducing the environmental impact on our planet.
Our 2023 Environmental, Social and Governance (ESG) Report outlines our progress toward this vision by highlighting our commitment to safe operations, responsible environmental stewardship and support of our employees and the communities we serve. The report focuses on our efforts in the following areas:
Environmental Stewardship — Sustainability is at the core of our vision, and we embrace the opportunity to be part of a transition to a carbon-neutral energy future.

Social Responsibility — We are committed to making a difference for our employees, customers and communities.

Corporate Governance & Oversight — Strong, forward-thinking leadership is necessary to create a better tomorrow for our people and our planet.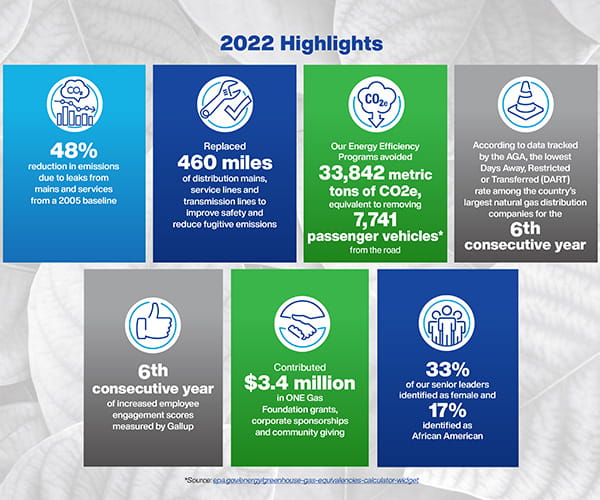 How Oklahoma is Making a Difference
Our employees in Oklahoma play a large part in meeting our company's ESG goals. Here are just a few of the ways Oklahoma was highlighted in this year's report:
We are financially supporting The Nature Conservancy, which protects and conserves more than 100,000 acres of Oklahoma's land, including the Joseph H. Williams Tallgrass Prairie Preserve, the largest protected piece of tallgrass prairie left on earth. Read more on page 19.
Our energy efficiency rebate programs help customers in Oklahoma make smarter energy choices that benefit them and the environment. In 2022, ONE Gas divisions issued 66,547 energy efficiency rebates in Oklahoma, totaling $12,585,361.
We sponsored Tulsa's sixth annual Native American Day Celebration, which honors Native American history and the deeply rooted Native American heritage in Oklahoma. Read more on page 41.
We provide compressed natural gas, one of the cleanest-burning alternative transportation fuels, to some Oklahoma school districts. Learn more on page 15.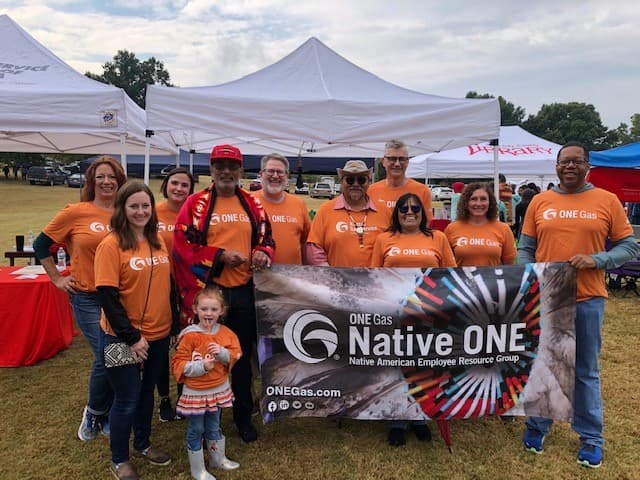 QUESTIONS?